About us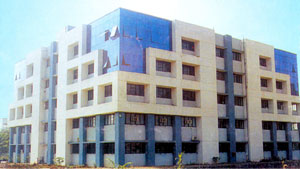 The Bharati Vidyapeeth's College of Architecture (BVCOA), Navi Mumbai was established in 1992. The college was functional in the shared premises at Belapur campus of Bharati Vidyapeeth.
For the degree courses, our college is affiliated to the University of Mumbai and is approved by the Council of Architecture (COA). The college is also affiliated to Maharashtra State Board for Technical Education (MSBTE) for the diploma course. The courses offered under the umbrella of B.V.C.O.A are 5 years degree courses - B.Arch (Bachelor of Architecture), with intake capacity of 80 students, B.Arch I.D. (Bachelor of Architecture major Interior Design) with the intake capacity of 40 students and a 3-year part time diploma course in Interior Design and Decoration (IDD) with intake capacity of 60 students.
It is because of the visionary effort put forward by the management and we all, our institute is able to extend its peripherals and help it to grow & develop its infrastructural facilities, add new courses & initiate the thoughts to begin post graduate courses.
Starting from current year i.e. 2010, YCMOU study center for its Post Graduate Courses in Architecture for the courses of Urban and Regional Planning AND Environment architecture has been introduced in B.V.C.O.A, Navi Mumbai.
Vision
To grow from strength to strength to achieve the goal of Quality education and to be the source of new ideas, innovation & creativity in the field of architecture and satisfy the needs of modern society.
Mission
To create and provide the quality environment that shall help the students grow intellectually, enhance the skill of creativity, self exploration, experience and experimentation at different levels and develop a holistic approach towards the opportunities & challenges in life.
Our Aim
Provide opportunities for self exploration , experience & experimentation.
Appreciation of the individual excellence & creativity.
Motivation & counselling of the students and faculties. Academic integrity.
Highly qualified, experienced & dedicated faculty.
Working in collaboration with authorities such as CIDCO and NMMC and other government agencies on live projects.
Our Objectives
To provide the conducive environment for education.
To motivate students for active participation and towards excellence in academics.
To provide facilities for training the students for their bright careers.
To prepare the individuals to build the confidence to face the oncoming challenges in career.
To provide guidance for research activities, which will promote contacts in the profession.
To organize QIP for faculty members.