Infrastructure
Campus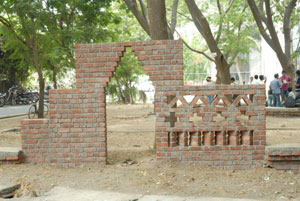 Bharati Vidyapeeth College of Architecture is situated in the Kharghar campus along the Mumbai-Pune highway in Navi Mumbai. This large campus is shared with Bharati Vidyapeeth College of Engineering, Polytechnic and Dental College. This campus is prominently located opposite to Kharghar Railway Station and enjoys easy accessibility by both rail and road. Due to its proximity to the Kharghar station(on CST-Panvel Harbour line and Panvel-Vashi-Thane route and the BEST and NMMT bus services which ply frequently on the CBD Belapur - Kharghar route. The four storied College of Architecture building has a large courtyard and is surrounded by several large studios and other spaces which overlook the lush green hills of Kharghar. This foothill setting of the college building adds to the sense of tranquility and is extremely scenic during the Monsoons.
Library
The College boasts of the largest collection of books numbering 8124 (approximately 7260 titles as on May 2015) and 13 National magazines,10 International magazines and periodicals related to Architecture and allied fields. Few state and central libraries membership is also taken on yearly basis fro students and faculty research purpose like, American library, British Council Library. This library functions on a single window, direct accessibility to students and staff on an equal footing and operates beyond college hours (upto 6 p.m.) to allow its extensive use. The accessibility is supported by requisite software allowing greater functional efficiency. The library is in the process of becoming a center for data resource which shall document and record various academic documentations and research activities conducted by the college.
Hostel Facility
The College campus within its expanses also includes hostel facilities for both boys and girls. These hostels have been designed by well known architect Shirish Beri and are fully equipped with ancillary facilities of common rooms, sports, etc including a full-time dining facility.
Canteen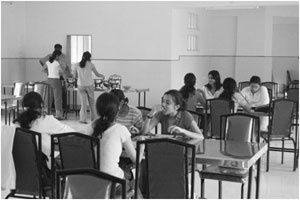 The campus canteen is centrally located in the campus and serves all campus students and staff. An indoor sitting capacity of almost 100 is augmented by a semi-open sitting area of almost the same capacity. in year 2011, students from 1st, 2nd and 3rd year of BArch course, took to paint the canteen interiors as a tribute to famous cartoonist of all time Mr. Mario Miranda. Even today the canteen is known in Navi Mumbai for the same efforts.
Computer Lab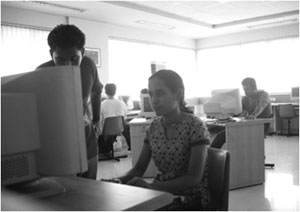 The Computer lab houses state-of-the-art equipment of latest computers , projector and has 24X7 2 mbps dedicated Internet facilities accessible to all. It enhances the study experiences of the students as it allows them to learn various design, drafting and rendering application software, which are used at various stages in the five years of their curriculum. A plotter of A0 size , a printer of A3 size, A4 scanners and a scanner printer of A4 is dedicated to student's perusal.
Construction Yard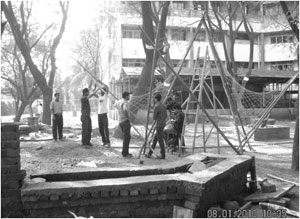 Activities of the Construction yard are integrated with the existing landscape and surroundings of the campus. Thus the various structures built as a part of this activity serve more than just being stand alone entities and get used by everyone in the campus. This activity enhances the open spaces and allows further exploration by the architecture students. The construction yard is located in the open space adjacent to the canteen and the college. It lends a distinctive sense of belonging by imparting a unique identity to the foreground of the college entry.
The college has additional facilities of Exhibition hall, Survey Lab, Climatology Lab, material and Equipment lab, etc which support the academic curriculum. The College also has AV facilities - dedicated projector and screens in every studio hall and one large air-conditioned Seminar Hall having capacity of 175 people. The Material testing lab and workshop is shared with the Engineering College.